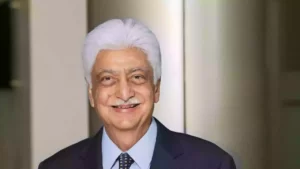 Personal Life
Name
Azim Hashim Premji
Nickname
Bill Gates of India
Date of Birth
24-Jul-1945
Age
77
Place of Birth
Mumbai, Maharashtra, India
Height
5' 2" ( 157 cm )
Hobbies
Hiking, Jogging, Playing Golf
Nationality
India
Zodiac Sign
Leo
Family
Father
M.H. Hasham Premji
Marital Status
Married
Spouse
Yasmeen
Children
Rishad Premji and Tariq Premji
Education
School
St. Mary's School Mumbai, India
College
St. Xavier's College, Mumbai
University
Stanford University, California, USA
Qualification
Bachelor of Science in Electrical Engineering
Degree from Stanford University
Career
Profession
Indian business tycoon, investor, and philanthropist, entrepreneur
Source of Wealth
Software Services
Founder/Co-Founder
Azim Premji Foundation, Mission10X, Azim Premji University
Net worth
686 crores USD
Awards
Padma Bhushan, CNN-IBN Indian of the Year Outstanding Achievement, IET Faraday Medal
Azim Premji, an electrical engineering graduate from Stanford University, has been at the helm of Wipro Limited since the late 1960s, turning what was then a $2 million shortening company into an IT services organization. , BPO and R&D that generated nearly $8.5 billion in revenue, with a presence in 58 countries. Other Wipro companies led by Premji have revenues of around $2 billion and span sectors such as consumer goods, precision engineering and healthcare systems.
Over the years, Azim Premji has received numerous honors and recognitions, which he considers recognition for the Wipro team and the Foundation. BusinessWeek included him among the 30 greatest entrepreneurs in world history. The Financial Times, Time, Fortune and Forbes have named him one of the world's most influential people, citing his leadership in business and philanthropy, and his contributions to improving public education. The Journal of Foreign Policy listed him among the world's leading thinkers. The Economic Times awarded him the Lifetime Achievement Award.
Azim is the first Indian to receive the Faraday Medal. He received honorary doctorates from Michigan State University, Wesleyan University, and the Indian Institutes of Technology in Bombay, Roorkee, and Kharagpur, among others. The Republic of France awarded him his highest civil award, Chevalier of the Légion d'Honneur. In January 2011, he received the Padma Vibhushan, India's second highest civilian award. The Carnegie Medal for Philanthropy was awarded to him in 2017, acclaiming the "awareness, integrity, and compassion that have guided his visionary giving … (with) priceless benefit both to that nation and to the world."
Early life
Azim Hashim Premji, the founding chairman of Wipro Limited, is an Indian business tycoon, investor, engineer and philanthropist. He is also known as the czar of the Indian computer industry.
Azim Hashim Premji was born on July 24, 1945 in Mumbai (then Bombay) to a Muslim family. His father, Mohamed Hashim Premji, was known as the Rice King of Burma. The founder of Pakistan, Muhammad Ali Jinnah, invited Premji's father to live in Pakistan, which he then refused and decided to stay in India.
In 1945, Azim Premji's father, Muhammad Hashim Premji, established Western Indian Vegetable Products Ltd. in Amalner, Maharashtra. The company manufactured Sunflower Vanaspathi (cooking oil) and a 787 laundry soap.
Azim Premji is a graduate of Electrical Engineering from Stanford University, USA. Premji married Yasmeen and the couple have two sons: Rishad Premji and Tariq Premji. Currently, the eldest son, Rishad, is the chairman of Wipro Limited.
Business
In the year Premji was born, his father founded Western Indian Vegetable Products Ltd., which produced vanaspati, a widely used hydrogenated butter. Three years later, colonial India was divided mainly into Hindu India and Muslim Pakistan, but the Premjis, a Muslim family, chose to remain in India. In 1966, just before Premji finished his engineering degree at Stanford University, his father died unexpectedly. Postponing his graduation, he returned to India to take over the family business and immediately began diversifying into consumer products such as soap, shoes and light bulbs, as well as hydraulic cylinders.
Premji changed the company's name to Wipro in 1977, and in 1979, when the Indian government asked IBM to leave the country, he began moving the company into the computer business. Wipro established a series of successful international partnerships in the 1980s to help it build computer hardware for sale in India. However, it was software development that made the company so lucrative. Premji built a reputation for hiring the best people and providing unparalleled training, and took advantage of the large number of well-educated software developers in India who were willing to work for much less money than their American counterparts. Wipro concentrated on developing custom software for export, primarily to the United States.
Azim Premji: Recognitions
1- Business Week has recognized Azim Premji as one of the greatest entrepreneurs after Wipro emerged as one of the fastest growing companies in the world.
2- In 2000, Azim Premji received an honorary doctorate from the Manipal Academy of Higher Education.
3- In 2006, Azim Premji received the Lakshya Business Visionary Award from the National Institute of Industrial Engineering in Mumbai.
4- In 2009, Azim Premji awarded him an honorary doctorate from Wesleyan University in Connecticut for his outstanding philanthropic work.
5- In 2015, the University of Mysore awarded Azim Premji an honorary doctorate.
6- In 2005, the Government of India awarded Azim Premji with Padma Bhushan for his work in trade and commerce.
7- In 2011, Azim Premji was awarded the Padma Vibhushan (second highest civilian award) by the Government of India.
8- In 2017, Azim Premji was ranked 9th in India Today magazine's list of India's Most Powerful People 2017.
Azim Premji is one of the richest people in India and is most famous for his philanthropic work. He has also received various awards: Padma Vibhushan, Padma Bhushan, etc. Azim Premji has transformed Wipro under his leadership from a $2 million cooking fat company into a conglomerate.
Fact
Azim Hashim Premji (born July 24, 1945) is an Indian business tycoon, investor, engineer, and philanthropist, who is the chairman of Wipro Limited.
He is informally known as the czar of the Indian computer industry.
He was responsible for guiding Wipro through four decades of diversification and growth to ultimately emerge as one of the world leaders in the software industry.
In 2010, Asiaweek voted him among the 20 most powerful men in the world.
He has been listed twice among the 100 most influential people by TIME magazine, once in 2004 and most recently in 2011. He is currently the 10th richest person in India with an estimated net worth of 850 crores USD as of July 2022. .
In 2013, he agreed to give away at least half of his wealth by signing The Giving Pledge.
Premji started with a $2.2 billion donation to the Azim Premji Foundation, focused on education in India.
In 2001, he established the non-profit Azim Premji Foundation, through which he aimed to improve the quality of primary education in rural India.
By the end of the first decade of the 21st century, the foundation had extended computer-assisted education to more than 16,000 schools, with child-friendly content increasingly available in local languages.
In March 2019, Azim Premji pledged 34% of Wipro shares in his possession to the Azim Premji Foundation. The Azim Premji Foundation has warned citizens against false messages claiming to be the foundation and asking for donations to the trust.
Azim Premji was the first Indian to sign 'The Giving Pledge' led by Warren Buffet and Bill Gates. This pledge was to encourage the world's richest people to dedicate the majority of their wealth to philanthropy.
Internal Link
External Link