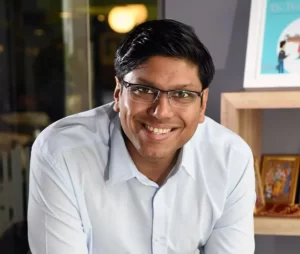 Name
Piyush Bansal
Date of Birth
26th April 1985
Age
37 years
Birth Place
New Delhi
Religion
Hinduism
School
Don Bosco School
University
IIM Bangalore (MPEFB- Management)
McGill University (Bachelors Engineering Honours)
Education Qualification
Post Graduate
Nationality
Indian
Marital Status
Married
Spouse(s)
Nimisha Bansal
Designation
CEO & Founder of Lenskart (Valyoo Technologies)
Hobbies
Traveling, Reading Books
Net worth
$80 million Approximately
Website
LinkedIn
Instagram
It would not be wrong if we say that this era is the era of start-ups. Every day we witness the birth of a new company in the market. When we talk about successful unicorn startups of this era, Lenskart is one of the best examples. The person behind the unique idea of ​​this startup is Peyush Bansal, a former Microsoft technician. Peyush Bansal is the founder and CEO of Lenskart, the fastest growing eyewear company in India.
Currently, Peyush Bansal is one of the sharks (judges) on a reality show Shark Tank India that airs on Sony TV. His path to success begins as an academically studious student to the founder of a billion dollar eyewear brand. With a calm personality, a brilliant mind and a strategic vision, he is one of the passionate entrepreneurs in the country who has taken his company to new heights in a short period of time. After being on the reality show, he has gained a lot of popularity and attention.
Early Life
Peyush Bansal is an Indian businessman and entrepreneur. He was born in Delhi (April 26, 1985) where he completed his formation at Don Bosco College. After completing his education, he prepared for IIT but failed. He then decided to study engineering at a foreign university and after much work and effort, he finally got admission to McGill University, Canada. He gained admission to the Bachelor of Engineering with Honors in Electrical, IT, Control and Automation. From 2002 to 2006 he completed his bachelor's degree there. While studying, he used to work as a part-time receptionist, where we developed his interest in computers and coding.
After completing his studies at McGill University, he started his career as a Program Manager at a popular tech giant – Microsoft, USA. He worked there for almost a year from January 2007 to December 2007. He also completed (MPEFB- Management ) from IIM (Indian Institute of Management), Bangalore.
Peyush quit his job and in 2008 he moved to India. Despite not having a business idea and experience, he decided to start a new business with a small capital that he has earned from his previous job. In December 2007, he founded a company basically an online portal (SearchMyCampus.com) to solve the various problems of college students, such as housing, training, jobs, transportation, books, etc. After this, he founded with his friends Valyoo Technologies Pvt Limited. which is now known as Lenskart.
Career
As a click-and-mortar business, Bansal has a hybrid model. Essentially, this means that they have online and offline operations. These operations allow companies to reach a broader market. However, they are more complex in their implementation. As there are still a large number of Indians who have no or minimal access to the Internet, this choice should come as no surprise. As India continues to make serious efforts to make the Internet more accessible to Indian citizens, it will be interesting to see how Lenskart's operations evolve in the future.
One day, when Peyush learned that 40% of the world's blind are in India and only a small number of people wear glasses, he decided to provide glasses to the people of his country and the world. He identified his niche in this industry with an idea to solve these problems with the help of technology. In 2010 he founded Lenskart together with Amit Chaudhary (of BITS, Mesra) and Sumeet Kapahi. Peyush Bansal began to gain clients throughout the country. Then they launched Lenskart.com website which has 49 offline stores across India.
Peyush Bansal is the CEO of the company and Amit Chaudhary is the COO of the organization. The company is headquartered in Faridabad, Delhi NCR. With an e-commerce website, it sells products through more than 500 stores in various parts of the country. The company entered the unicorn club in 2019. Current Lenskart investors include Ratan Tata and S Gopalakrishnan (of Infosys).
Family
Peyush's father was a public accountant. He always had the support of his parents. Not much information is available about the other members of Peyush's family, such as his mother and his brothers, as of now. He is married to Nidhi Mittal and has been blessed with a child. His name is Evan. He has a small family that he loves the most.
Net Worth
Peyush Bansal's net worth grows every year as he runs the business in a well-organized manner. Peyush's net worth is approximately $80 million.
Some Other Facts
Peyush Bansal is currently judging India's first reality show of its kind – Shark Tank Season 1. It is basically a business reality TV show that gives budding entrepreneurs a platform to showcase their entrepreneurial talent and skills and gain some business insights and insights. investments. It's basically the Indian version of Shark Tank USA.
In 2019, Peyush Bansal was listed in Fortune India's Top 40 Entrepreneurs Under 40.
He was honored with the British Association Medal by McGill University in 2006.
Valyoo Technologies (ie Lenskart today) won the Red Herring Top 100 Asia award in 2012.
In 2012, the Indian E-tail Awards named her Emerging Entrepreneur of the Year.
His company has also been honored with the 2014 Marketing Sherpa Email Awards.
In 2015, Peyush was also the recipient of the India TV Yuva Awards (in Business Cadre).
Peyush Bansal was named one of India's most attractive business leaders under 40 by Economic Times
FAQ
What is the net worth of Lenskart?
Lenskart had 500+ stores in over 40 cities in India and it's revenue US$130 million.
Who is Lenskart owner?
Peyush Bansal
Where is Peyush Bansal from?
Delhi
Who is wife of Piyush Bansal?
Nimisha Bansal
What does Peyush Bansal wife do?
Nimisha Bansal is known for being the wife of Peyush Bansal, an Indian entrepreneur who is the co-founder and Chief Executive Officer (CEO) of Lenskart, an Indian optical prescription eyewear retail chain.
You may also like