Definition
When number of cylinders are arranged in a compact envelope, it is known as telescopic cylinder.
They are special design of a hydraulic cylinder as well as pulley system which provide an exceptionally long output travel from a very compact retracted length.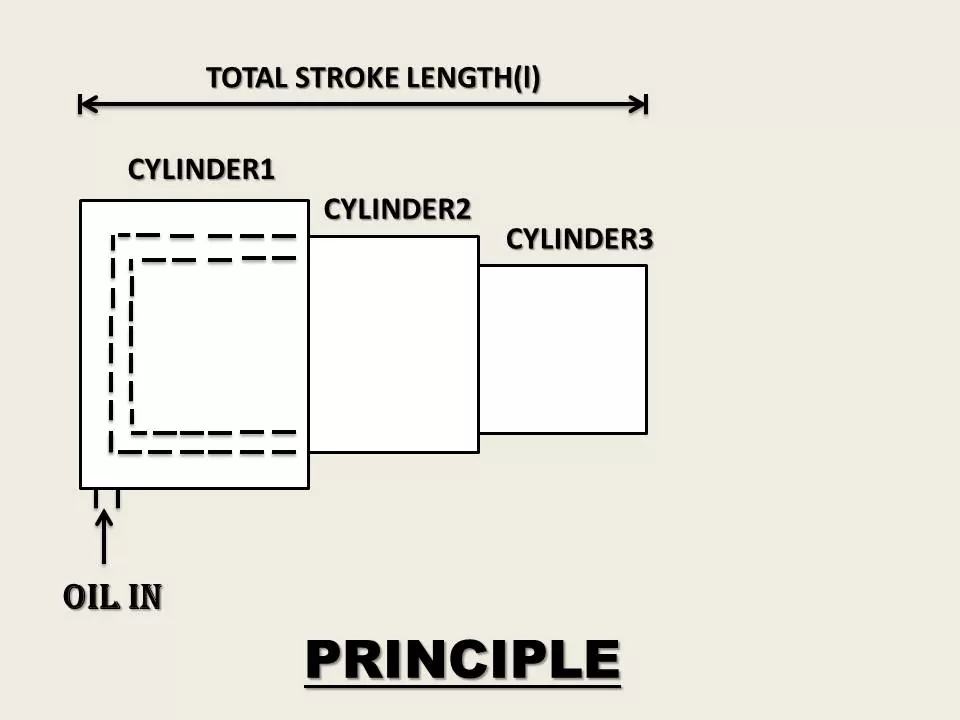 Construction
It is comprised of several cylinders built inside one another. Telescopic cylinder is often constructed in a single-acting form, but also to be encountered in a double-acting version. A combination of single-acting stages with a double-acting stage is also possible. The advantage of telescopic cylinders is that they can generate large strokes with relatively small installation lengths.
It consists of number of cylinders, with decreasing in size. The main cylinder accommodates the number of cylinders arranged one inside the other.
Inlet is provided for main cylinder to enter the pressurised oil. The corresponding inlets are also provided to the each cylinder.
The cylinders are arranged in a short envelope hence space required is less.
They are also known as telescoping cylinders and multi-stage telescopic cylinders.
Heavy duty telescopic cylinders are usually operated by oil hydraulics, whereas some lighter duty units could also be powered by compressed air.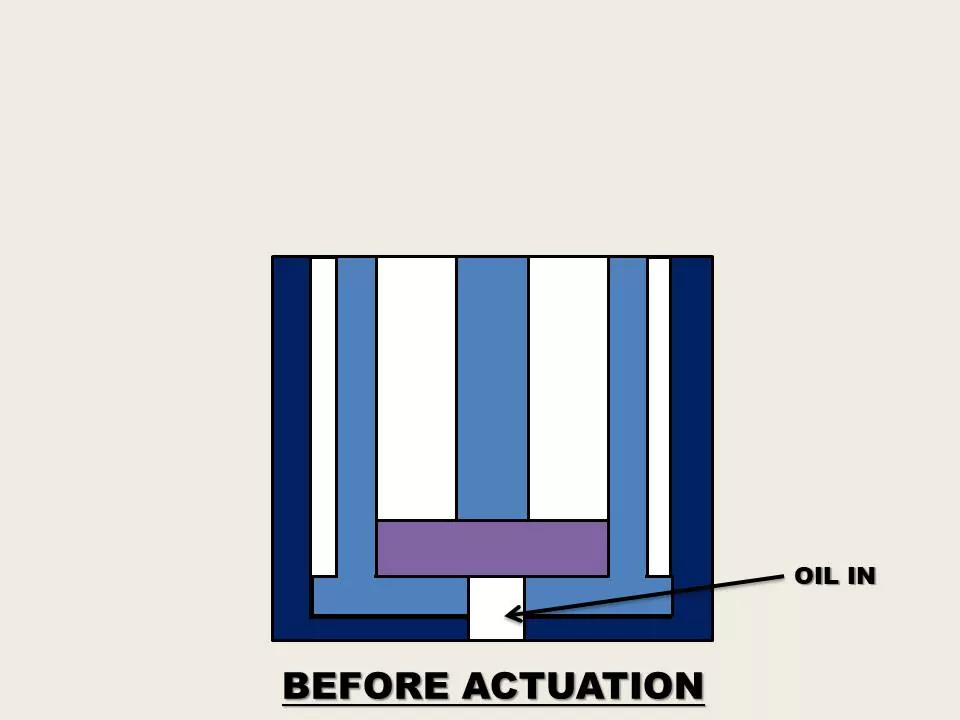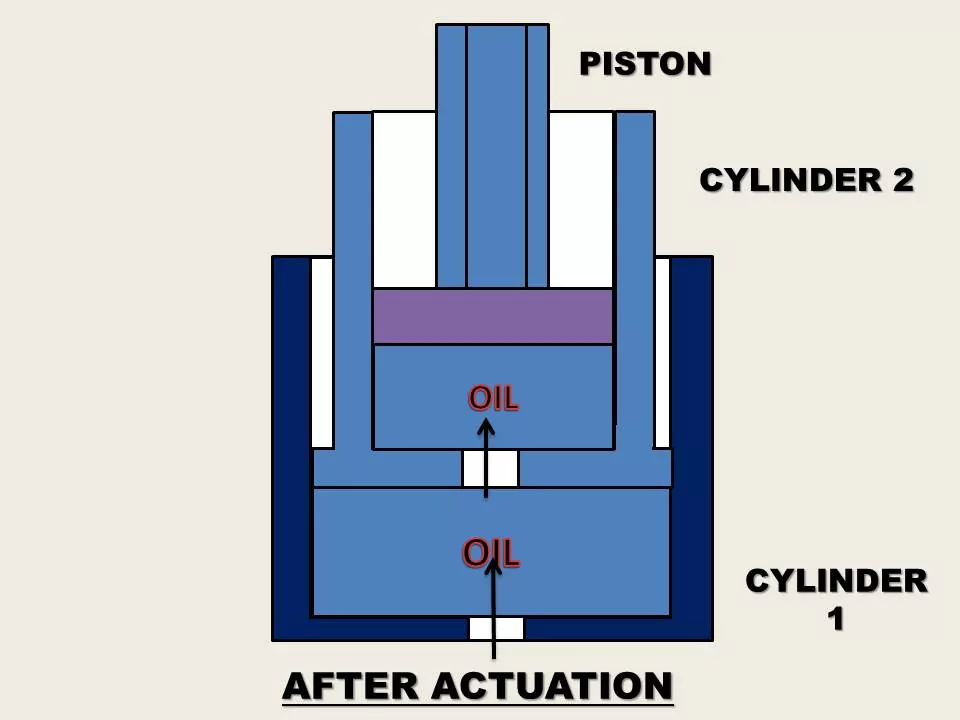 Working
During the extension stroke, When pressurised oil enters in the main cylinder 1 it will push the cylinder 2 in the upward direction when sufficient oil pressure is generated.
Now the cylinder 2 is completely lifted and oil will enter into the inlet of cylinder 2.
The oil will flow in the cylinder 2 and push the piston in upward direction. It will raise the piston for stroke length of cylinder 2.
In this manner, the total length of stroke through which the load is lifted is (L1+L2).
Symbol
Advantages and Disadvantages of Telescopic Cylinder
Telescopic cylinders, also known as multistage cylinders or telescoping cylinders, are hydraulic or pneumatic devices that consist of multiple stages or sections that collapse and expand within each other. These cylinders are commonly used in various applications where a long stroke is required while maintaining a compact installation space. Here are some advantages and disadvantages of telescopic cylinders:
Advantages
Extended stroke length: Telescopic cylinders provide an extended stroke length compared to traditional single-stage cylinders. This feature allows for a greater range of motion and flexibility in various applications.
Compact design: Telescopic cylinders are designed to collapse within each other, which results in a more compact overall length when retracted. This makes them suitable for installations where space is limited.
High force capacity: Telescopic cylinders can handle high force requirements due to their design. Each stage of the cylinder contributes to the overall force output, allowing them to generate significant pushing or pulling power.
Customizable stroke length: Telescopic cylinders can be manufactured with customizable stroke lengths to meet specific application requirements. This flexibility in stroke adjustment makes them versatile and adaptable to different situations.
Disadvantages
Complex design: Telescopic cylinders have a more complex design compared to standard single-stage cylinders. The presence of multiple stages and seals increases the chances of mechanical failure or leakage, requiring more maintenance and potentially higher costs.
Increased friction and wear: The sliding movement between the stages of a telescopic cylinder can result in increased friction and wear over time. This may lead to reduced efficiency, loss of performance, and the need for regular lubrication or replacement of components.
Reduced speed and responsiveness: Telescopic cylinders generally have slower operation speeds compared to single-stage cylinders. The extended length and additional stages introduce more internal friction, which can affect the speed and responsiveness of the cylinder.
Cost: Telescopic cylinders tend to be more expensive than standard cylinders due to their complex design and additional components. The cost of manufacturing, maintenance, and repair can be higher, which may impact the decision to use telescopic cylinders in certains applications
It's important to note that the advantages and disadvantages mentioned above are general considerations, and the specific performance of a telescopic cylinder may vary based on factors such as design quality, materials used, and maintenance practices.
Application
Telescopic cylinder is used where there is a less space available.
It is used in fork lift truck, hydraulic cranes.
In commercial vehicle
Lifting platform, Tipping platforms
In some special applications, it is required to extend with a constant force or constant speed. To accomplish this, the cylinder is designed so that all the stages extend at the same time.
FAQ
What is Telescopic cylinder?
When number of cylinders are arranged in a compact envelope similar to telescope lenses, it is known as telescopic cylinder.
How do telescopic cylinders work?
Pressurized oil extends the telescopic cylinder to raise one end of the dump body and expel its load. When pressure is released, the weight of the dump body forces oil out of the cylinder and it retracts. Double-acting telescopic cylinders are powered hydraulically in both directions.
What is the use of Telescopic cylinder?
Telescopic cylinder is used where there is a less space available. It is used in fork lift truck, hydraulic cranes.
You may also like