Personal Life
Name
Tina Dabi
Born
9 November 1993
Place of Birth
Bhopal, Madhya Pradesh, India
Hometown
New Delhi, India
Nationality
Indian
Height (approx.)
164 cm
Weight (approx.)
54 kg
Education
School
Convent of Jesus and Mary School
College/University
Lady Shree Ram Collage
Education Background
90.2% in 10th and 91.4% in 12th
Optional Subject
Political Science
Family
Father
Jaswant Dabi
Mother
Himani Dabi
Sister
Ria Dabi
Marital Status
Married
Spouse
Athar Aamir Khan (m. 2018- 2021 )
Pradeep Gawande ( m. 2022 – present )
Profession
Profession
IAS
Preferred Services
IAS > IPS > IFS > IRS(IT) > IRS(CE)
Exam Result
Rank 1
Exam Roll Number
0256747
No. of attempt in CSE
1
Office
Joint Secretary of Finance department of Rajasthan since 2020
Salary
56,100 RS per month
Net Worth in 2022 (Approx)
$1 Million – $5 Million (Approx.)
Web
Twitter
Instagram
IAS Tina Dabi Biography: IAS Tina Dabi is trending again on the internet for her second marriage to IAS Pradeep Gawande. Tina Dabi and Pradeep Gawande are getting married. This high-profile couple will perform all the rituals in a famous hotel located in Bice Godown in the pink city of Jaipur. In these beautiful moments of life, only selected family and guests will be present with them. After the wedding rituals, a reception has been held at this hotel on April 22nd.
As Tina Dabi, winner of the 2015 UPSC exam, she has started a new chapter with Dr. Pradeep Gawande. Tina and Pradeep's family members are in Jaipur to attend the wedding. More than 50 rooms have been reserved for the guest in the hotel. Tina and Pradeep will be married according to Marathi-Rajasthani customs. Pradeep Gawande's family is Marathi. Tina Dabi's mother is Marathi and her father is Rajasthani, so the wedding rituals will have a good mix of Marathi and Rajasthani traditions. For this, special preparations have been made at the hotel.
Tina Dabi Biography: Early Life
Tina Dabi was born on November 9, 1993. She is 29 years old. Tina was born in Bhopal, Madhya Pradesh and her hometown in New Delhi, India. She went to the Convent of Jesus and Mary, New Delhi and did a Bachelor of Political Science from Lady Shri Ram College for Women. Tina Dabi was born into a middle class Dalit family. In the UPSC (Union Public Service Commission) exam in 2016, she got first place on her first try and became the talk of the town. She passed the IAS exam with a 52.49% impression on her first attempt.
Tina Dabi Father Jaswant Dabi is the General Manager of BSNL and her mother, Himani Dabi, was a former Indian Design Administration (IFS) civil servant. She also has a younger sister named Riya Dabi.
Tina Dabi's first marriage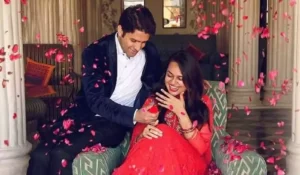 In 2015, Tina met her future husband, Athar Aamir Khan, at the IAS Honors Ceremony at the DoPT office in Delhi. They became close during their preparation period for the IAS at the founding of the "Lal Bahadur Shastri National Academy of Management" in Mussoorie. During this time she also made a trip to the Netherlands, Paris and Rome. On March 20, 2018, she married Aamir, who is also an IAS officer.
The problems started in their marriage quite early. It became public in 2020 when Tina Dabi removed "Khan" from her last name from her display name on social media accounts. Around the same time, Athar Aamir Khan had unfollowed her on Instagram. After 2 years of marriage, the couple separated and divorced by mutual consent.
Second marriage of Tina Dabi
IAS Tina Dabi is currently Deputy Secretary of the Department of Finance, while her fiancé, Pradeep Gawande, is Deputy Secretary of the Department of Higher Education. The two recently revealed their relationship on social media. The relationship was revealed. Tina Dabi and Pradeep Gawande met during their assignment in the medical department. At the same time, this friendship gradually turned into love. After this, they both decided to get married and because of this, both of them were seen together many times. Pradeep Gawande is 13 years older than Tina Dabi. IAS Tina Dabi is now engaged to Dr. Pradeep Gawande, an IAS officer from the batch of 2013. The news of Tina Dabi and Pradeep Gawande's engagement has now become a topic of discussion due to the age difference between the two . IAS Pradeep Gawande is 41 years old while Tina Dabi's age is 29 years old.
Tina dabi sister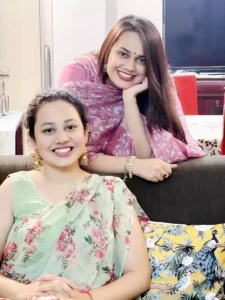 Tina Dabi's younger sister, Ria Dabi, followed in her footsteps and passed the IAS civil service exam. She placed 15th in the coveted exam.
Career
UPSC Civil Services Exam Preparation
Tina started preparing for the UPSC Civil Services Examination in her first year and was admitted to the IAS Study Circle at RAU, New Delhi. She studied from 9 to 12 hours a day and followed a fixed schedule. She studied large topics in the space of 3 hours, topics of medium length in the space of 2 hours, and reviewed previously studied topics in the afternoon space.
Tina Dabi as Vice President of the Youth Parliament
Tina Dabi is a prolific speaker and debater. In 2012 she took over as Vice President of the Youth Parliament, where her performance was exemplary.
Topper Tina Dabi UPSC
At the age of 22, Tina Dabi passed one of the world's toughest exams, the Union Public Service Commission (UPSC), in 2015 and scored 1063 points out of 2025. Tina Dabi is the first Dalit woman to earn the first place in the coveted IAS exam. Her ex-husband Athar Aamir Khan became the second incumbent in 2015.
Painting by Tina Dabi IAS
Since Tina Dabi wanted to work for the empowerment of women, her first preference was Haryana Cadre. However, the two vacancies in Haryana Cadre were allocated to ST category candidates and Dabi was allocated Rajasthan Cadre, her second preference.
President's Gold Medal
On June 29, 2018, Tina Dabi received the President's Gold Medal for her two-year training program at LBSNAA (Lal Bahadur Shastri National Academy of Management).
Cabinet Secretary, Government of India
Tina Dabi aspires to serve as the Cabinet Secretary of the Government of India.
Salary of Tina Dabi
As of 2022, Tina Dabi earns Rs. 56,100 monthly, along with other allowances, as part of her monthly salary.
Some facts
Does Tina smoke? No
Does Tina drink alcohol? Unknown
Tina was born in Bhopal, but her family moved to Delhi when she was in the 7th grade.
Both parents had cracked UPSC Indian Engineering Services – IES Exam before.
After completing her studies, she initially wanted to do B.Com, but she took admission in B.A. Political Science, and in the first year. she had started to prepare for the UPSC Civil Services Examination.
She is a born genius as she got 100% in Political Science and History in her 12th ICSE board standard exams, and she was Lady Shri Ram College's "Student of the Year".
When she was just 18 years old, she entered the IAS Study Circle of RAU, New Delhi.
For her preparation at IAS, she used to study from 9 to 12 hours and followed a fixed time plan for each and every subject.
She has a deep interest in the Constitution of India and Indian politics since her school days. Her interest was reflected in the result of her first year, where she was among the first in the discipline of Political Science at the University of Delhi.
She is a prolific debater since her school days and was the Vice President of the Youth Parliament in 2012.
In 2012, she was Vice President of the Youth Parliament, 2012, where her performance was simply stunning.
In 2016, at just 22 years old, she passed the IAS exam (UPSC 2015) on her first attempt and scored 1063 points out of 2025 (52.49%).
She is the first Scheduled Caste (SC) woman to get first place in the IAS exam.
FAQ
What is Tina's qualification?
Tina Dabi IAS: Rank 1st on first attempt on the UPSC Civil Services Examination. Tina Dabi at 22 years old has achieved what many would have taken years to achieve. She is now in the prestigious Indian Administrative Service (IAS), that too by securing her first rank on her first attempt at the UPSC Civil Services Examination (CSE).
Is tina married?
Tina Dabi, the 24-year-old IAS officer who passed the civil service exam three years ago, and the Kashmiri man who came second in the same exams are now married. Athar and I were married on March 20 in Jaipur by collector Shri Siddharth Mahajan.
When did Tina get married?
While Tina is from Delhi, Athar Amir is from Jammu and Kashmir. The couple fell in love when they reportedly met at the Department of Personnel and Training office in Delhi for the congratulatory function on May 11, 2015. According to the tweet, the couple married in March at the Collector's Office. , Jaipur.
Internal Link