Definition 
A hydraulic accumulator is a pressure vessel used to store hydraulic energy and on demand make the energy available again to the system.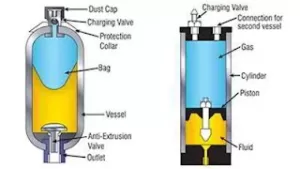 Function of accumulator 
An accumulator is a pressure vessel that holds hydraulic fluid and a compressible gas, typically nitrogen. The housing or shell is made of materials like steel, stainless steel, aluminum, titanium and fiber-reinforced composites. Inside, a moveable or flexible barrier—usually a piston or rubber bladder—separates the oil from the gas.
To meet peak demand of power :- 
When excessive power is available during lower capacity, there will be loss of power if pump run continuously, hence during the slack period, some of the fluid energy is used to charge an accumulator. Then it is used
To smooth out pressure surge/shocks :-
When fluid flow is suddenly changed pressure surges are developed, moving fluid may cause fluid hammer and shock waves. Accumulator will absorb the pressure shocks and ripples and reduce vibrations and pressure surges.
To provide emergency power source:-
The fluid energy stored in an accumulator may be sufficient to give an emergency supply in case of power failure causing the pumps to stop.
Accumulator give fluid energy back up for longer periods without keeping the pump running.
They are used in
Large hydraulic presses
Farm machinery, diesel engine starters
Aeroplan landing mechanism
Lift trucks etc.
Type of Accumulator
FAQ
What is accumulator and its function?
Accumulator is a pressure vessel for storing hydraulic pressure in it utilizing compressible and decompressible nature of nitrogen gas.
What are the four functions of an accumulator?
Hydraulic accumulators are able to provide a handful of functions: Energy storage, leakage compensation, and vibration and shock reduction.
Which system an accumulator is used?
hydraulic system
An accumulator enables a hydraulic system to cope with extremes of demand using a less powerful pump, to respond more quickly to a temporary demand, and to smooth out pulsations. It is a type of energy storage device.
How do you calculate accumulator precharge pressure?
PT = testing pressure of the accumulator (relative to the atmospheric pressure, namely the "relative pressure"). Usually PT = PS x 1.43. ∆P = is the difference between the maximum and minimum working pres- sure (P2-P1).
What are the three types of accumulator?
1. Dead weight accumulator
2. Spring loaded accumulator
3. Gas charged accumulator
If you want video of Accumulator then click below link