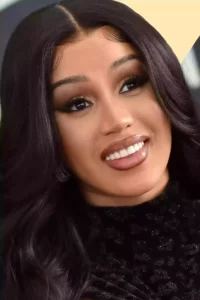 | | |
| --- | --- |
| Personal Life | |
| Name | Belcalis Marlenis Almánzar |
| Born | 11 October 1992 |
| Age | 30 years |
| Birth Place | Washington Heights, New York, United States |
| Other Name | Belcalis Almánzar-Cephus, Cardi B |
| Height | 5′ 3″ (1.6 m) |
| Hometown | High Bridge, South Bronx, New York |
| Zodiac Sign | Libra |
| Nationality | American |
| favorite artists | Madonna and Lady Gaga |
| Family | |
| Father Name | Edward |
| Mother Name | Anora |
| Sister Name | Hennessy Carolina Almanzar |
| Marital Status | Married |
| Husband Name | Kiari Kendrell Cephus (Offset) |
| Marriage Date | 2017 |
| Children | Kulture Kiari Cephus, Wave Set Cephus |
| Education | |
| School | Renaissance High School for Musical Theater & Technology, New York and Herbert H. Lehman High School, New York |
| College / University | Borough of Manhattan Community College, New York |
| Education Qualification | Graduate |
| Professional Life | |
| Occupation | American Rapper, songwriter, actress, businesswoman |
| Years active | 2015–present |
| Genres | Hip hop |
| Instruments | Vocals |
| Albums | Invasion of Privacy, Gangsta Bitch Music, Vol. 1, Gangsta Bitch Music, Vol. 2, Finesse (feat. Cardi B) (Remix) |
| Awards | MTV Video Music Award for the Best Song of the Summer |
| Net worth | $40 Million |
| Website | cardib.com |
Cardi B Biography
Belcalis Marlenis Almánzar was born in Washington Heights, Manhattan, on October 11, 1992. Belcalis Almanzar rapper, songwriter and actress. She was born in New York, United States. Her stage name is Cardi B. Cardi B is the daughter of a Dominican father and a mother from Trinidad and Tobago. During her childhood and adolescence, she lived in one of the poorest neighborhoods in the Bronx. The girl joined several street gangs, which led her to have an extremely turbulent life, she had a boyfriend, a gang member, with whom she lived for a time and was constantly attacked by him. She attended the High School for Musical Theater and Technology.
To help her family with the household expenses, she was a cashier in a store, but at the age of 19 she got a job as a stripper, to better fit in this environment, and to have more money, she had to undergo numerous plastic surgeries to increase your breasts and buttocks. Cardi intended to study for a bachelor's degree, but she dropped out of college due to lack of time. In 2013, she began to become a social media personality, primarily on Vine and Instagram. She began to have great popularity.
Professional career
During her teenage years, Cardi B worked at an Amish supermarket in Lower Manhattan, which was the last job she had before turning to stripping at the age of 19. Upon being fired from the supermarket, her former manager recommended that she work at a strip club. She has said that she became a stripper to escape poverty and domestic violence, having been in an abusive relationship at the time. Cardi B also said that becoming a stripper was positive for her life in many ways: "It really saved me from a lot of things. When I started stripping, I went back to school." She says that stripping was the only way out for her, a way to earn enough money to escape her dire situation and get an education. However, she eventually dropped out of college.
In 2013, Cardi B started gaining publicity due to several of her videos going viral on social media, on Vine and on her official Instagram page.
Two years later, she took advantage of this situation to launch herself to fame by starring in the sixth season of the reality show Love & Hip Hop: New York. At that time she was known by her stage name. In 2015 she decided to debut in the music world by remixing Shaggy's single Boom Boom. At the same time, she continued to appear on the sixth season of the show Love & Hip Hop: New York. In March 2016, she released her first mixtape, Gangsta Bitch Music, Vol. 1, under the auspices of the KSR label. It reached a significant position on Billboard's Rap Albums chart and 27th on the Independent Albums chart.
The following month, she appeared in an episode of Kocktails with Khloé, the episode was inspired by the moment she confessed to her mother that she was a stripper. In early 2017, she released a second mixtape, Gangsta Bitch Music, Vol. 2, and after finishing the seventh season of Love & Hip Hop: New York, Atlantic Records contacted her to sign a contract. So, she began opening for The Lox during their Filthy America…It's Beautiful Tour. Thanks to her success, Cardi was nominated for two BET Awards. Cardi subsequently released her first commercial single, Bodak Yellow, and it quickly became a viral hit.
With Bodak Yellow
Within three months, the song reached No. 1 on the Billboard Hot 100, making Cardi the second rapper in history to hold No. 1 as a solo artist. In addition, she managed to lead for three consecutive weeks, matching Taylor Swift's Look What You Made Me Do as the longest reigning female singer of 2017, she was also the solo rapper with the most weeks in the first position in all history. Her success was notable, she was nominated in nine categories at the BET Hip Hop Awards that year, of which she managed to win five, including Best New Hip Hop Artist and Best Single for Bodak Yellow.
Cardi B collaborated with rappers G-Eazy and ASAP Rocky on the song No Limit, a hit in the United States after reaching position 4 on the Billboard Hot 100. A month later, she released her single MotorSport alongside major artists. Like Migos and Nicki Minaj, the single peaked at number 6 on the Billboard Hot 100, making it her third consecutive song to do so. Thanks to Bodak Yellow, she took home the award for Best Hip Hop Song of the Year at the Soul Train Music Awards, as well as earning two Grammy Award nominations in the categories of Best Rap Song and Best Rap Performance. .
At the beginning of 2018: No Limit, MotorSport and Bodak Yellow were within the first 10 positions, for this reason, the artist became the third rapper in history to position her first three songs in the top ten of the count simultaneously, only after The Beatles (1964) and Ashanti (2002). Her single Bartier Cardi debuted at position 14. Shortly after, Cardi announced a collaboration with Bruno Mars on a remix of his song Finesse, from his album 24K Magic (2016).
The song was an instant hit and debuted inside the top 40 of the Billboard Hot 100, as a result, Cardi had five songs simultaneously inside the top forty. She made an intervention, considered impeccable, at the sixtieth edition of the Grammy Awards. Later, she received the Best New Artist award at the iHeartRadio Music Awards. Cardi announced that her debut album would be out in April. Days later, she revealed her name: Invasion of Privacy. The artist has stated that she has been inspired by the artists Missy Elliott and Tweet as the main sources of inspiration for her.
She also mentioned that her outfits and show are inspired by Madonna, Lady Gaga and Ivy Queen. It is noteworthy that, at the beginning of it, Cardi felt a great attraction to making aggressive music, following the line of rappers Khia and Trina. However, she also wanted to create music that would be suitable for most women; especially issues of infidelity, or problems with other women. Many record companies have admired her tone of voice, characterizing it as a nasal, strong and provocative voice, which, combined with her thick New York accent, makes her suitable for rapping.
On the other hand, Cardi's way of being: reckless, not afraid to act under any circumstances, generates a great synergy with the public. This rapper is recognized as a feminist. In addition to this, she assures that her past has allowed her to learn many things and she does not try to hide it; she openly declares that she is a prostitute stripper. In 2017, she started a relationship with rapper Offset from the group Migos, then they got engaged on Saturday Night Live and, at the same time, Cardi announced that she was expecting her first child. The following year she won an award at the iHeartRadio Music Awards for her song titled with her stage name.
Controversies
Cardi B sparked controversy after throwing one of her high heels and attempting to physically attack fellow rapper Nicki Minaj at a New York Fashion Week after party in September 2018. Cardi B graced the cover of the Harper's Bazaar spring 2019 fashion issue. , which featured her in a Cinderella-themed photo shoot wearing a red dress and leaving behind one of her shoes. Some interpreted this as a reference to the incident.
After the release of "Girls" in May 2018, a collaboration in which she had a featured verse, Cardi B responded to accusations that the song trivialized and sexualized LGBT relationships; she tweeted, "We never meant any harm or bad intentions with the song." She went on to add, "I personally had experiences with other women."
In March 2019, an Instagram live stream from 2016 resurfaced where Cardi B can be heard claiming that she had in the past "drugged and robbed men" who willingly accompanied her to hotel rooms for sex. Cardi b claimed that the men she was referring to were conscientious, willing, and conscientious; they were being "twisted in the club" before approaching her and denied putting anything in a man's drink.
She added that she took some money from them because they wasted her time by falling asleep and then "kept coming back." She concluded by saying that at the time she had very limited options to survive and she feels a responsibility not to glorify him.
Cardi B Biography
Cardi B Net Worth
As of 2022, Cardi B's net worth is $40 Million.
Awards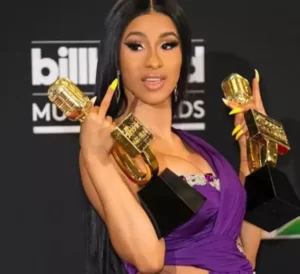 Cardi B has received many awards in her career. This includes a Grammy Award, eight Billboard Music Awards, five American Music Awards, eleven BET Hip-Hop Awards, four BET Awards, four iHeart Radio Music Awards, one NRJ Music Award, and many more.
Additionally, she held five Guinness World Records during her career. She also received the honor from her for the second time in 2020, making her the first songwriter to win the award twice.
In 2020, she was the first female rapper to be named Woman of the Year at the Billboard Women in Music Awards.
Film
Year
Title
Role
2015 – 2017
Love & Hip Hop New York
Herself
2015
Uncommon Sense with Charlamagne
Herself
2016
Kocktails with Khloé
Herself
2017
Being Mary Jane


Hip Hop Squares
Mercedes


Herself, Panelist
2018
Saturday Night Live

The Tonight Show Starring Jimmy Fallon
Herself, Musical guest

Herself, Co-host
2019
Untold Stories of Hip Hop

Rhythm, Flow
Herself

Herself, Judge
2020 to present
Cardi Tries
Herself, Host
Studio albums
Invasion of Privacy (2018)
Web
Facts
Her nickname was originally Bacardi as her sister was named Hennessy Carolina, but the Bacardi liquor company forced her to cease and desist from using her name professionally.
She secretly married her boyfriend (September 20, 2017) of a few months Offset.
Her parents were born in the Dominican Republic. Her mother also has roots in Trinidad.
Ella cardi B she admitted to drugging unsuspecting men to rob them, claiming that she needed to do so to survive, despite being physically healthy.
The first albums she bought were by Missy Elliott and Tweet.
She attended Renaissance High School for Musical Theater and Technology, which is a vocational high school.
She is the first woman to have five Top 10 singles at once on the Billboard Hot R&B/Hip Hop chart.
When she was 16 years old, she became a member of the Bloods, but has since disassociated herself from the gangs.
Her musical debut was in 2015 when she appeared on the remix of singer Shaggy's single "Boom Boom".
Cardi B's manicurist takes three hours to perfect her infamously dazzling salon nails.
She endorsed Bernie Sanders in the 2020 presidential campaign.
She paid $800 to have silicone injections done in her buttocks.
FAQ
How old is Cardi B?
29 years old (October 11, 1992)
Who has more money Cardi B or Offset?
Who is richer, Cardi B or Offset? Cardi B is richer than her husband by $14 million. Offset has an estimated net worth of $26 million.
Why is Cardi B off social media?
This is not the first time the "Bodak Yellow" rapper has deleted her social media. In 2019, Cardi deleted her Instagram account after receiving hate after winning best rap album for her debut "Invasion of Privacy," making her the first solo female rapper to win the category.
What's up with Cardi B's Instagram?
Cardi B continues her social media purge and closes her Instagram account. The rapper also deleted her Twitter account after a heated exchange with fans about not attending the Grammys.
Internal Link