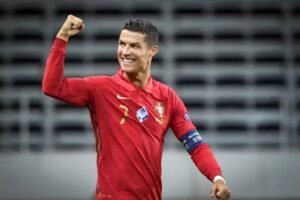 | | |
| --- | --- |
| Cristiano Ronaldo | |
| Name | Cristiano Ronaldo dos Santos Aveiro |
| Born | 5 February 1985 (age 36) Funchal, Madeira, Portugal |
| Height | 1.87 m (6 ft 2 in) |
| Partner | Georgina Rodríguez |
| Children | Cristiano Ronaldo Jr., Alana Martina dos Santos Aveiro, Eva Maria Dos Santos, Mateo Ronaldo |
| Nationality | Portuguese |
| Profession | Football Player |
| Current team | Juventus F.C. Portugal national football team |
| Number | 7 |
| Position | Forward |
| Salary | 3.1 crores EUR (2021) |
| Net worth | $1 million |
| Last update | August 2021 |
Cristiano Ronaldo is related to the football game and he is a very famous football player. Born in a poor family, Cristiano started playing football at a very young age and was selected in the international football team at the age of just 18. Within a very short time, Cristiano had managed to make a place in the hearts of people through his game and at this time he has become the most famous player in the world. In terms of income too, Cristiano is far ahead of other players in the world and his name comes first in the list of the richest player in the world. But to reach this height, Cristiano has also struggled a lot in his life.
Birth and Family of Cristiano Ronaldo
Cristiano Ronaldo -Cristiano Ronaldo was born on February 5, 1985 in Portugal, and his father's name is José Dinis Aveiro, who worked as a gardener in the municipality. His mother's name is María Dolores dos Santos Aveiro and she used to go to the houses and cook. Apart from his parents in Ronaldo's family, he also has a brother and two sisters and he is the youngest of his siblings.
Ronaldo has a total of four children, out of which the name of his eldest son is Cristiano Ronaldo Jr. Their son was born on June 17, 2010. Although Ronaldo has never disclosed about who is the mother of his son.
The names of Ronaldo's other children are Mateo, Eva Maria and Alana Martinez. Mateo and Eva Maria are Ronaldo's twins, who were born via surrogacy on June 8, 2017. Whereas their daughter Alana Martinez was born on 12 November 2017 and her daughter's mother is her current girlfriend.
Ronaldo's Education
Born in a simple family, Ronaldo has not received any kind of education. It is said that when Ronaldo was 14 years old, at that time he threw a chair at one of his school teachers and for doing so he was expelled from the school. At the same time, Ronaldo was fond of playing football since childhood and wanted to make his career in this game, so he left his studies in the middle. In Ronaldo's decision, to leave his studies, his mother also supported him.
Personal information related to Ronaldo's life
Cristiano Ronaldo is named after the President of the US by his father. Actually US President Ronald Reagan used to be an actor too and Cristiano's father was a big fan of his. So when Cristiano Ronaldo was born, his father named him after his favorite person.
Ronaldo was born in a very poor family and during one of his interviews, Ronaldo had told how he used to live in a very small house and he had to share his room with his brother and sister.
When Ronaldo told his family about becoming a footballer, then his mother supported him a lot in his dream of becoming a footballer at that time and today due to his mother's sport, Ronaldo has become a great footballer player.
Ronaldo was suffering from racing heart disease in childhood and when he was learning to play football at the age of 14, he came to know about his disease at the same time.
Due to this disease, it became impossible for Ronaldo to play football. Because the heart of people suffering from this disease beats faster and in such a situation more jumping is fatal.
Who is Cristiano Ronaldo | Biography, Career, Awards, Controversy
But when Ronaldo's family came to know about his disease, they immediately got Ronaldo treated and after a few days of treatment, Ronaldo started playing football instead of resting.
Ronaldo does not drink alcohol, cigarettes or any other kind of intoxicant because his father died at the age of 52 due to excessive drinking. And that's why Ronaldo has kept a distance from all these kinds of things.
At the time when Ronaldo was succeeding in his football career, Ronaldo's mother was diagnosed with cancer. After which Ronaldo got his mother treated and at this time he lives with his mother.
As a child, Ronaldo used to be a part of the Andorinha team and he played for this team from 1992 to 1995.
Ronaldo's career
Sporting CP Club
At the age of 16, Ronaldo became part of the Sporting CP club in Portugal and during this time he was promoted by the manager of Sporting's youth team, pleased with his game.
Within a year, Ronaldo started playing for the club's Under-16 team, Under-17 team, Under-18, B and Fast team and thus became the first player to have played only one team. There was so much progress within the year.
From this club, he played his first Primeira Liga match in the year 2002 and he played this match against Morrens Football Club. He also scored two goals in this match.
In this match, Cristiano performed so well that the attention of many football clubs was attracted towards him and most football clubs wanted to make him a part of their team.
During this time there was a match between the team of Sporting Club and the team of Manchester United Football Club. In this match, the team of Sporting Club won by 3-1 goals and in this match, Cristiano alone scored 2 goals.
After this match, Manchester United Football Club had decided to take Cristiano in their team.
After seeing Cristiano's match in 2003, Sir Alex Ferguson, one of the great football managers, wanted Cristiano to play football matches for England and become part of Manchester United Football Club.
Apart from Sir Alex Ferguson, the great English football player Rio Ferdinand also wanted to see Ronaldo as his teammate.
Cristiano's journey with Manchester United Football Club
In 2003, Manchester United Football Club bought Cristiano from Sporting Club for £24, a price that was too high for Manchester United Football Club to make Cristiano a part of their club.
After becoming a part of Manchester United Football Club, he was given many types of training and with the help of these training, Cristiano was able to improve his game further.
Cristiano got a chance to play for Manchester United Football Club in the FA Cup in the year 2004 and in this cup, Cristiano performed very well and helped his team to win this match.
In the final match of the FA Cup in 2004, Cristiano scored three goals, while by the year 2006, Cristiano had scored 26 goals in his name.
Due to Cristiano's good performance, Manchester United Football Club again extended his contract. And this time they were bought for £ 31 million.
After the contract extension, Cristiano scored a total of 42 goals while playing for this club and helped his team win three Premier League trophies.
Know how Cristiano got the name CR7
The period from the year 2006 to the year 2008 proved to be a very good time in Cristiano's life and during this time the Manchester United Football Club gave the jersey number 7 to Cristiano.
This jersey number was associated with the great players of Manchester United Football Club. That's why Cristiano was afraid to take this jersey, but despite his refusal, he was given the number 7 jersey.
This number proved to be very lucky for Cristiano and gradually Cristiano was called by the name of CR7.
Cristiano (Real Madrid) joins Real Madrid Club
In 2009, Cristiano left Manchester United Football Club and joined the Real Madrid club. This club is a football club associated with the country of Spain and this club bought them for about £ 80 million.
After becoming a part of this team, Cristiano was given the jersey number 9, because the number seven jersey was with the player of this team, Raul. However, Raul had left his jersey for Cristiano and in this way he once again got the number seven jersey.
On behalf of Real Madrid, Cristiano has won this club by participating in many football tournaments. From the year 2016 to the year 2017, Ronaldo has scored a total of 42 goals while playing for this club and has also led this team.
Girlfriends of Cristiano Ronaldo
Cristiano Ronaldo's name has been linked with many girls and he has also dated many actresses and models.
Ronaldo has had many girlfriends and the names of his girlfriends are as follows, Karina Ferro (Portuguese model), Jordan Jadel (Brazilian model), Merche Romero (Portuguese model), Soraya Chaves (Portuguese model), Mia Judecan, Gemma Storey , Tice, Gemma Atkinson (British supermodel), Bipasha Basu, Nereda Gallardo, Paris Hilton, Kim Kardashian, Irina and Georgina Rodriguez.
Cristiano is currently dating Georgina Rodriguez and the two were first seen together in the year 2016. Georgina Rodriguez has a very good relationship with Cristiano as well as her children and has often been seen with Cristiano's children. Apart from this, she is also the mother of a child of Cristiano.
It is also believed that Cristiano is going to marry Georgina Rodriguez soon and recently Cristiano's mother also gave a hint of Cristiano getting married soon in an interview.
Cristiano Ronaldo lives his life like a common man and he loves to eat Portuguese food.
Controversy related to Cristiano Ronaldo
As much as Cristiano is a famous football player, he is also surrounded by controversies. However, these controversies have never affected his career.
Rape allegation
In the year 2005, Cristiano was also accused of raping and he has also been arrested on this charge. However, shortly after his arrest, the police released Cristiano and after some time the girl who accused him of these charges was also withdrawn. Due to this controversy, Cristiano's image was also badly affected.
Drinking alcohol in club
In the year 2008, 'Daily Mirror' published a news in its newspaper and in that news it was said that Cristiano had consumed too much alcohol by going to a club there. After this news was published, the fans of Cristiano were quite shocked because Cristiano did not consume alcohol.
However, this news later turned out to be false and 'Daily Mirror' along with giving compensation also apologized to Cristiano for publishing this news.
Mother of Cristiano's son
There was also a lot of controversy regarding the identity of the real mother of Cristiano's son Cristiano Ronaldo Jr. It is said that this child of Cristiano was given birth by a 20-year-old girl and from this girl, Cristiano took the custody of his child by paying money.
Cristiano Net Worth And Assets
Cristiano is the richest player in the world and has earned a lot of money through his games and many advertisements. Apart from this, Cristiano also has a brand named CR7 and many types of salmon are sold under this brand. Cristiano's net worth is $330 million.
The value of Cristiano can be gauged from the fact that he earns up to eight crore rupees in 45 hours.
Interesting facts related to Cristiano Ronaldo
Cristiano's mother used to call him Cry Baby in childhood because he used to cry when he was not given a pass by his peers while playing football.
Cristiano spends a lot of time with his children and often brings his eldest son with him to many award functions.
The identity of Cristiano is not limited to just a player, he is also well known for social work. Cristiano also donates money to help people from time to time and he also appealed to the people to improve the bad conditions of the Syrian country. At the same time, he is always completely dedicated towards his game and tries to make his team win every match.
Information related to Cristiano Ronaldo's game
Cristiano Ronaldo is the most famous football player in the world who has scored a total of 654 goals in his career so far.
When Cristiano jumps to hit the ball, he uses more power than a cheetah to make that jump.
Cristiano runs at a speed of 130 kilometers per hour while hitting a free kick, which is a very high speed.
Cristiano has scored a total of 107 goals with the help of his head, out of which he has scored 65 goals while playing for Real Madrid.
When Cristiano started playing football, at that time he had increased his weight a little.
Because of being underweight, he was not able to control his speed while playing football.
Records made by Cristiano Ronaldo
The Ballon d'Or award is the highest award in the football world. Cristiano has won this award five times and with this Cristiano is the only player who has won this award five times.
Ronaldo also holds the record of winning the World Soccer Player of the Year award five times.
Cristiano is also the first footballer to score 40 goals in two consecutive seasons of the Professional League. Cristiano has scored 50 goals in consecutive top-5 leagues and it is very difficult to break this record.
Information about the awards received by Cristiano Ronaldo
Ballon d'Or 2008
European Golden Shoes 2008 and 2011
FIFA World Player of the Year 2009
Pichichi Trophy 2014, 2011
UEFA Best Player in Europe Award 2014
FIFA Puskas Award 2009
PFA Player's Player of the Year 2007, 2006
Goal 50 2012, 2018
Premier League Golden Boot 2007
Premier League Player of the Month 2008, 2006
UEFA Team of the Year 2012, 2011, 2010
PUFA Team of the Year 2008, 2007, 2006
PFA Young Player of the Year 2006
Bravo Awards 2004
Trofeo Alfredo Di Stefano 2011
Best International Athlete ESPY Awards 2014
FWA Footballer of the Year 2007,2006
Premier League Player of the Season 2007,2006
BBC Overseas Sports Personality of the Year 2014
UEFA Club Footballer of the Year 2007
World Soccer Player of the Year 2008
Sir Matt Busby Player of the Year 2007, 2006, 2003
La Liga Player of the Month 2013
FIFA Ballon d'Or 2014
PFA Fans Player of the Year 2007, 2006
UEFA Champions League Top Goalscorer 2014, 2013, 2008
FIFA FIFO WORLD XI 2012, 2011, 2010
LPF Most Valuable Player 2013
FIFPro Special Young Player of the Year 2005, 2004
Milliet Sports Award for World Athlete of the Year 2014
IFFHS World Best Top Division Goal Scorer 2013
UEFA Champions League Forward of the Year 2017
You may also like