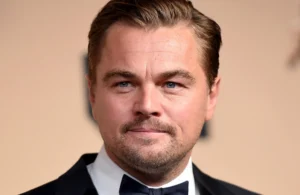 Real Name
Leonardo Wilhelm DiCaprio
Nicknames
Leo DiCaprio
Born
November 11, 1974
Birth Place
Hollywood, Los Angeles, California, USA
Nationality
American
Age
48 years
School
• Seeds Elementary School (now UCLA Lab
School), Los Angeles, California,
• John Marshall High School, Los Angeles,
California,
• Los Angeles Center for Enriched Studies,
Los Angeles, California
Height
6′ (1.83 m)
Parents
Irmelin DiCaprio
George DiCaprio
Step-mother
Peggy Farra
Brother
Adam Farrar (step brother)
Wife/Spouse
Unmarried
Children
None (no children)
Debut
Film (Actor): Critters 3 (1991); as 'Josh'
TV (Actor): The New Lassie (1989); as
'Glen'
Executive Producer (Film): The Aviator
(2004)
Producer (Film): The 11th Hour (2007)
Net Worth
$260 Million
Twitter Followers
19 Million
Instagram Followers
54 Million
Website
Simply Leonardo DiCaprio
Other Works
Public Service Print ads for the Natural Resources Defense Council by Tag Heuer watches.
Leonardo Wilhelm DiCaprio One of the most recognizable men in Hollywood with an acting career that will live forever. Even when Leonardo DiCaprio doesn't star in the latest film, he often remains the talk of the day in entertainment. Having starred in such blockbusters as Titanic, Shutter Island and The Wolf of Wall Street, Leo proves time and time again that his talent is phenomenal.
The celebrity finally won his first Oscar in 2016 for his role in The Revenant, but he was also nominated countless times in 2020 for his portrayal of Rick Dalton in Once Upon a Time in Hollywood.
Personal Life
Leonardo Wilhelm DiCaprio was born on November 11, 1974 in Los Angeles, California, the only child of Irmelin DiCaprio (née Indenbirken) and former comic book artist George DiCaprio. His father is of Italian and German descent, and his German-born mother is of German and Russian descent. His middle name, "Wilhelm", was the first name of his maternal grandfather. Leonardo's father had achieved minor status as an artist and distributor of cult comic book titles, and was even depicted in several issues of American Splendor, the cult semi-autobiographical comic book series by the late 'Harvey Pekar', a friend of George. Leonardo's acting skills became apparent to his parents early on, and after booking him with a talent agent who wanted Leonardo to perform under the stage name "Lenny Williams", DiCaprio began appearing in a series of commercials for television and educational programs.
DiCaprio's personal life is the subject of extensive media attention. He rarely gives interviews and is tight-lipped about his private life, but has been the focus of several references detailing his relationships with women 25 and younger. In 1999, DiCaprio met Brazilian model Gisele Bündchen, whom he dated until 2005. He was romantically involved with Israeli model Bar Refaeli from 2005 to 2011, during which time he met with Israeli President Shimon Peres and visited the hometown. of Refaeli, Hod HaSharon. He later dated German model Toni Garrn from July 2013 to December 2014 and later in 2017. DiCaprio was in a relationship with American model and actress Camila Morrone from c. 2017 to 2022. He has been criticized by some for age differences in his relationships.
DiCaprio has a house in Los Angeles and an apartment in Battery Park City. In 2009, it purchased an island, Blackadore Caye, off mainland Belize, on which to open an eco-friendly resort, and in 2014, it purchased the original Dinah Shore residence designed by mid-20th century modern architect century Donald Wexler in Palm Springs. , Calif.
Political Activism
During the 2004 presidential election, DiCaprio campaigned and donated to John Kerry's presidential bid. He gave $2,300 to Barack Obama's presidential campaign in the 2008 election, the most an individual could give in that election cycle, and $5,000 to Obama's campaign in 2012. DiCaprio endorsed Hillary Clinton for the 2016 presidential election. In March 2020, DiCaprio attended a fundraiser for Joe Biden at the home of Paramount Pictures executive Sherry Lansing.
Before the 2020 election, DiCaprio narrated a Netflix documentary series on voting rights, stating, "We may all be created equal. But we will never be equal until we all vote. So don't wait."
Controversy
In 2005, DiCaprio's face was badly injured when model Aretha Wilson hit him over the head with a broken bottle at a Hollywood party. As a result, he required seventeen stitches to his face and neck. Wilson pleaded guilty to assault and was sentenced in 2010 to two years in prison.
Facts
Her pregnant mother named him after Leonardo Da Vinci when she felt a kick from DiCaprio while she was looking at the famous artist's painting.
DiCaprio made his acting debut at the age of 5 on the television show 'Romper Room.'
He has his own production company, Appian Way Productions.
He received his first Academy Award nomination when he was just 19 years old.
His first Oscar win broke the internet and became the most tweeted-about moment of an Oscar broadcast.
The actor openly talks about his struggle with OCD. He admits to having strong urges to walk through doors several times.
Internal Link