The valve which allows flow of oil in only one direction and block the reverse flow of oil, is known as check valve or Non Return Valve.
Construction
1) Poppet with spring : The movable member is the poppet/ball placed with the help of spring.
2) Valve body : It is provided with ports and accommodates the poppet with spring.
3) Inlet and Outlet port :The inlet port P is provided for entry of oil and outlet port A for discharge of oil.
Working
It work on two mode
A) No flow
It is functionally a one way traffic control sign which is obtained by no flow position.
When fluid attempts reverse direction of flow from port A to port P, the spring hold the poppet at the valve seat at port P and block the oil path, hence oil can not flow from port A to port P.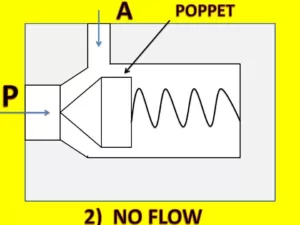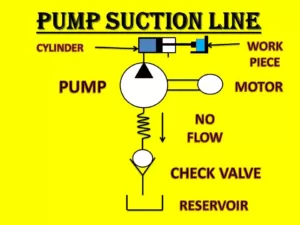 B) Free flow
The pressurised oil will enter through port P at inlet port and the oil pressure is high enough to overcome the spring force on the poppet.
The poppet is pushed off and moves towards the spring and open the port P and port A. This is free flow condition of check valve.
Also read…