DEFINITION –
SEALS AND GASKETS ARE THE FLUID POWER ELEMENTS WHICH ARE USED TO REDUCE LEAKAGE EFFECTIVELY AT STATIC/DYNAMIC PORTIONS OF HYDRAULIC COMPONENTS.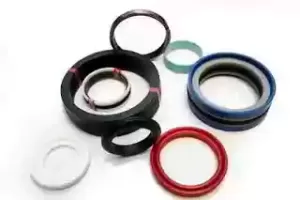 Importance of Seals and Gaskets –
Leakage is a common problem which is to be prevented to keep the system at optimum efficiency.
It is very difficult to design an absolutely leakproof system due to limitations of fluid power elements.
Wear and tear of moving components increases leakage chances.
Leakage in a hydraulic system may be internal/external and tiny seal plays important role to prevent leakage effectively.
Basically seals are used in both static ( stationary parts ) and dynamic ( moving components ) portions of hydraulic components.
Static seals are used for stationary mating parts between valve bodies, pumps, reservoirs, pipes, couplings, etc.
Dynamic parts such as pump, hydromotor shafts, cylinder piston and wall, having motion are protected by dynamic seals.
Seals are basically used to –
1) Prevent internal and external leakage of fluid.
2) Prevent entry of dirt, dust and other contaminants in the system.
3) Improve efficiency of the system.
4) Maintain oil pressure by minimising pressure drop due to leakage.
Factors for seal selection –
1) Working pressure and pressure range
2) Environmental condition
3) Fluid medium
4) Type of application
5) Temperature of the system
Classification of seals –
1. As per method of sealing
a) Positive seals – The seals prevents even a minute amount of fluid leakage. e.g. Piston seals
b) Non positive seal – It may allow a small amount of internal leakage for lubrication purpose. e.g. Spool movement in valve body.
2. As per area of application
a) Static seals – They are used between stationary parts.
b) Dynamic seals – They are used between the surfaces of moving hydraulic parts.
3. As per shape of the seal
a) O-ring
b) T-ring
c) V-ring
d) U-ring
e) Flat ring
4. As per seal material
a) Leather seal
b) Metal seal
c) Polymer seal
d) Plastic seal
e) Elastomer seal etc.
Failure of seal –
a) Excessive clearance
b) High fluid temperature
c) Damaged or wornout parts
d) Overloading/ Excessive side loads
e) Incompatibility of the seal material and oil
Also read…